Grizzly Mama
There's a Grizzly who has escaped the City of Brotherly Love..(and she's going back to homeschooling!!)
About Me
Name: Grizzly Mama
Location: Out of Philly, Pennsylvania, United States
"All who have meditated on the art of governing mankind have been convinced that the fate of empires depends on the education of youth." Aristotle - Greek Philosopher.
Visit As A Mom...
NetRightNation


I Support Israel
Land of the Free
Gun Bloggers I Like
Favorite UK Blogs
Home Educator Blogs
Medicinal Herbals
Searching for Moderate Muslims
Righteous Arabs
Homeschooling 'Stuff'
Favorite Websites
Webrings
[
Philly Webvring
|
<'doze
|
'dis
|
'dat
|
'deeze>
]
Very Cool Favorite Things
Photo above by Oleg Volk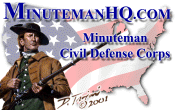 'I support the MinuteMan Project'
Check These Out!
Watch Me Crash at Blogshares!
Whatchamadoohies